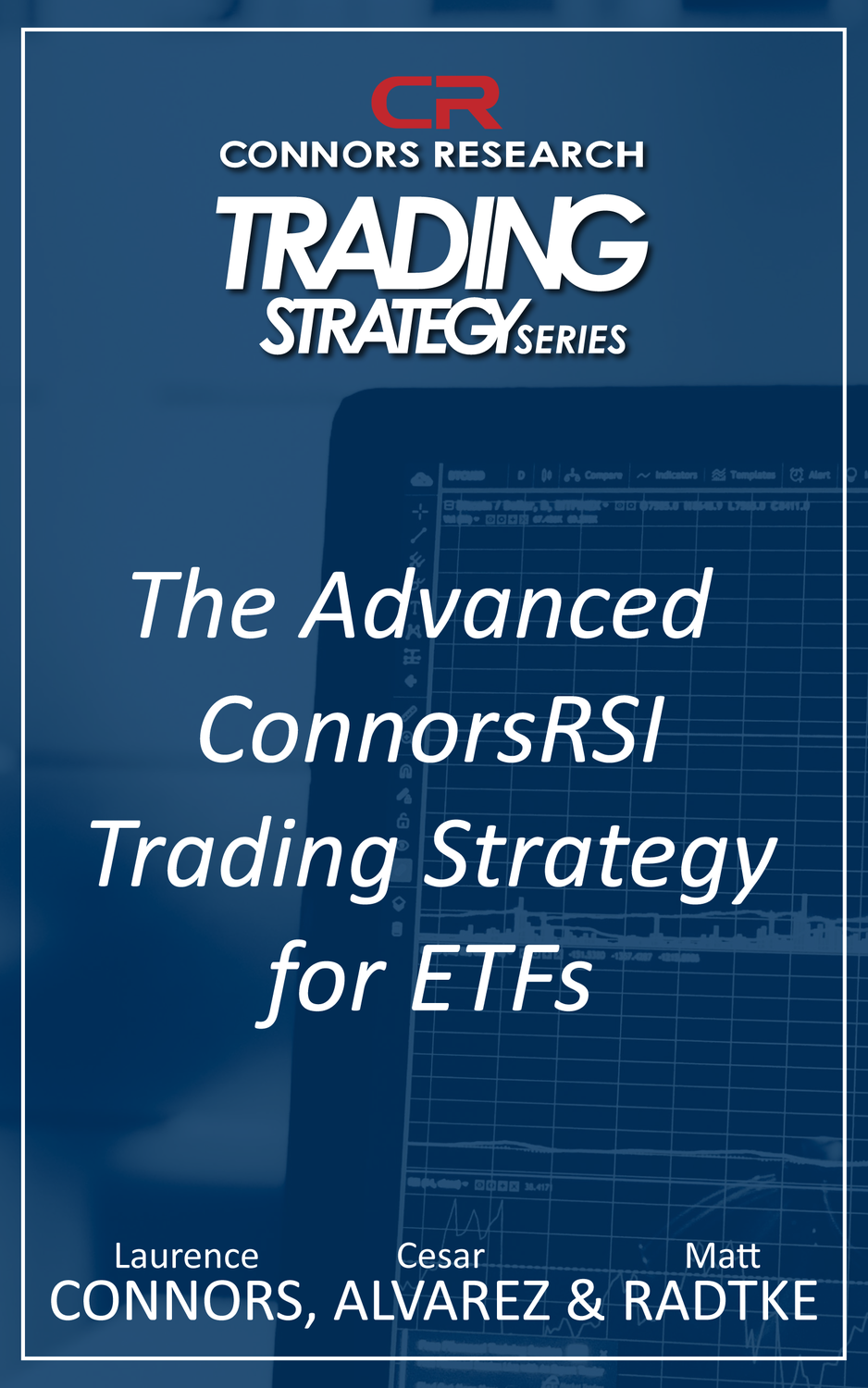 Connors Research Trading Strategy Series: Advanced ConnorsRSI Strategy for ETFs
SKU BOO-CREC-D
Product Details
New Research on Trading ETFs with ConnorsRSI
Learn the Latest Advances to ConnorsRSI to Improve Your ETF Trading Accuracy
NEW from Connors Research:
The Advanced ConnorsRSI Trading Strategy for ETFs
The release of the ConnorsRSI quantified momentum oscillator has generated a tremendous response from active traders over the past year. In fact, ConnorsRSI is now available on Bloomberg, ScottTrade, MetaStock, TradingView and more platforms are being added.
As we continue to explore new research possibilities for ConnorsRSI we continue to discover that incorporating this indicator into trading setups can often deliver extraordinary results.
Recently, Connors Research developed a new ETF trading strategy, incorporating ConnorsRSI, that offers:
High Historical Accuracy: Over a dozen strategy variations with a Win Rate above 90%;
Strong Gains: 15 variations with Avg. P/L of greater than 9%;
Quick profits: Avg. Hold is less than 2 days in many cases and less than 3 days on almost all variations.
This strategy seeks to identify historically high-probability ETF trading setups by precisely defining when ConnorsRSI is oversold. It only signals a buy when there is both a high probability of success and the potential for a higher than average gain... with many variations delivering an average gain of more than 4% per day.
You can learn exactly how to apply our latest research advance for ConnorsRSI to ETFs with the trading strategies published in the newest guidebook from Connors Research: The Advanced ConnorsRSI Trading Strategy for ETFs.
Consistent Trading Results
This new research applies the ConnorsRSI trading indicator to over 7½ years (starting in January 2006) of simulated historical ETF trading data.
You will get dozens of
high-performing, fully quantified strategy variations
using ConnorsRSI to apply to your ETF trading. This gives you an opportunity to select strategies that fit your trading goals and needs.
Here are just the Top 10 variations sorted by Win Rate:
And here are the Top 10 variations sorted by Average Gain:
How is ConnorsRSI Different than Traditional Indicators?
The success of this strategy is due to the ConnorsRSI indicator. ConnorsRSI provides valuable information in that it quantifies:
how overbought or oversold prices are;
the duration of the recent trend; and
the magnitude of the most recent price change.
Combining these factors into a single indicator helps identify the best trading opportunities since ConnorsRSI is designed to be more responsive to the current market action.
In contrast, traditional momentum indicators, like the Relative Strength Index (RSI) quantify only the degree that prices are overbought or oversold and usually do so with a significant amount of lag as a result of the way it is calculated. RSI was first described in 1978 and many traders still rely on the exact same rules that were based on data from the 1970s.
Markets have changed a great deal in the past 35 years but traders using the typical default settings for RSI have not kept up with those changes. It is obvious that traders need new tools and new ideas to succeed.
ConnorsRSI is just that tool to help generate those ideas and as you will see in The Advanced ConnorsRSI Trading Strategy for ETFs we have created a simple 3-step process to identify, enter and exit these trades.
Here is What You Will Receive...
in
The Advanced ConnorsRSI Trading Strategy for ETFs
:
The exact trading rules. This is not a black box – full disclosure of the rules is given to you
How to identify the best trading set-ups
How to select the best entry levels that fit your trading style
Where to exactly place your orders each day
Where and when to exit your orders with precision
Order The Advanced ConnorsRSI Trading Strategy for ETFs
Whether you swing trade or trade options, The Advanced ConnorsRSI Trading Strategy for ETFs will make you a better, more powerful trader.
If you are looking to trade the most consistent quantified rule-based strategies available to traders today, order The Advanced ConnorsRSI Trading Strategy for ETFs.
Order online or call toll-free 1-888-484-8220 ext. 3 (outside the US please call 973-494-7311).
100% Money Back Guarantee
The List Price of
The Advanced ConnorsRSI Trading Strategy for ETFs
is $50. It comes with a
100% Money Back Guarantee
(as do all the Guidebooks in our Strategy Series). Use the strategy for 60 days. If you are not fully satisfied with the results, you will receive a full refund of the purchase price.
100% Research-Based
Price: $40.00
Connors Research
Trading Strategy Series
The Advanced ConnorsRSI
Trading Strategy
for ETFs
by Larry Connors, Matt Radtke & Connors Research, LLC

A practical guidebook of strategies with clear instructions on how to apply entry & exit filters that show historical tendencies to improve the winning edges and average gains of the best systematic strategies to trade ETFs using the ConnorsRSI oscillator.
Your Total Satisfaction Guarantee
The Advanced ConnorsRSI Trading Strategy for ETFs is backed by our 100% money-back guarantee. If you are not completely satisfied with this strategy just let us know within 60 days and you will receive a full refund.
About Connors Research
For over 15 years, Larry Connors and now Connors Research has provided the highest-quality, data-driven research on trading for individual investors, hedge funds, proprietary trading firms, and bank trading desks around the world.
The strategies published by Connors Research are:
Completely Original & Unique to Connors Research
You will not find these strategies published anywhere else.
Consistent with Strategies Utilized by Billion-Dollar Hedge Funds
Institutional money managers make decisions based on sophisticated, computer-run analyses of massive amounts of trading data. So do we. So should you.
Historically Validated Over Many Years and Markets
We quantify precise patterns to improve your trading decisions. Our proprietary database spans over two decades, with more than 12 million quantified trades.
Tens of Thousands of Traders Have Relied on Our Research Over The Years
From best-selling books, like "Short Term Trading Strategies That Work" to institutional software products, Connors Research continues to give professional traders and asset managers the tools to achieve professional-level results.
About the Authors
Larry Connors, Chairman & Founder, Connors Research
Larry Connors has over 30 years in the financial markets industry. His opinions have been featured at the Wall Street Journal, Bloomberg, Dow Jones, & many others.
Mr. Connors has been an active trader since 1981. His strategies and research are used by thousands of traders throughout the world.
Matt Radtke, Senior Researcher for Connors Research
Mr. Radtke graduated magna cum laude from Michigan State University with a degree in computer science. He has 25 years of software development experience, including work at Hewlett-Packard and Bell Northern Research.
Mr. Radtke has been actively trading stocks, ETFs, and options since 2008. Over the past several years he has become increasingly involved with the Connors Group family of companies, first as a student, then as a member of Chairman's Club, and finally as a consultant, researcher, and author.
No Special Tools or Calculations Required
The ConnorsRSI momentum oscillator is freely available at the TradingMarkets.com Analytics website. You can enter any ticker symbol to immediately get the ConnorsRSI values you need to evaluate your trades.
Full-disclosure: the formula for ConnorsRSI is open to the public. You will find the entire formula printed in this guide, with a full explanation of the concepts behind it.
Save this product for later