Connors Research Trading Strategy Series: S&P 500 Trading with ConnorsRSI
BOO-CRSP-Q213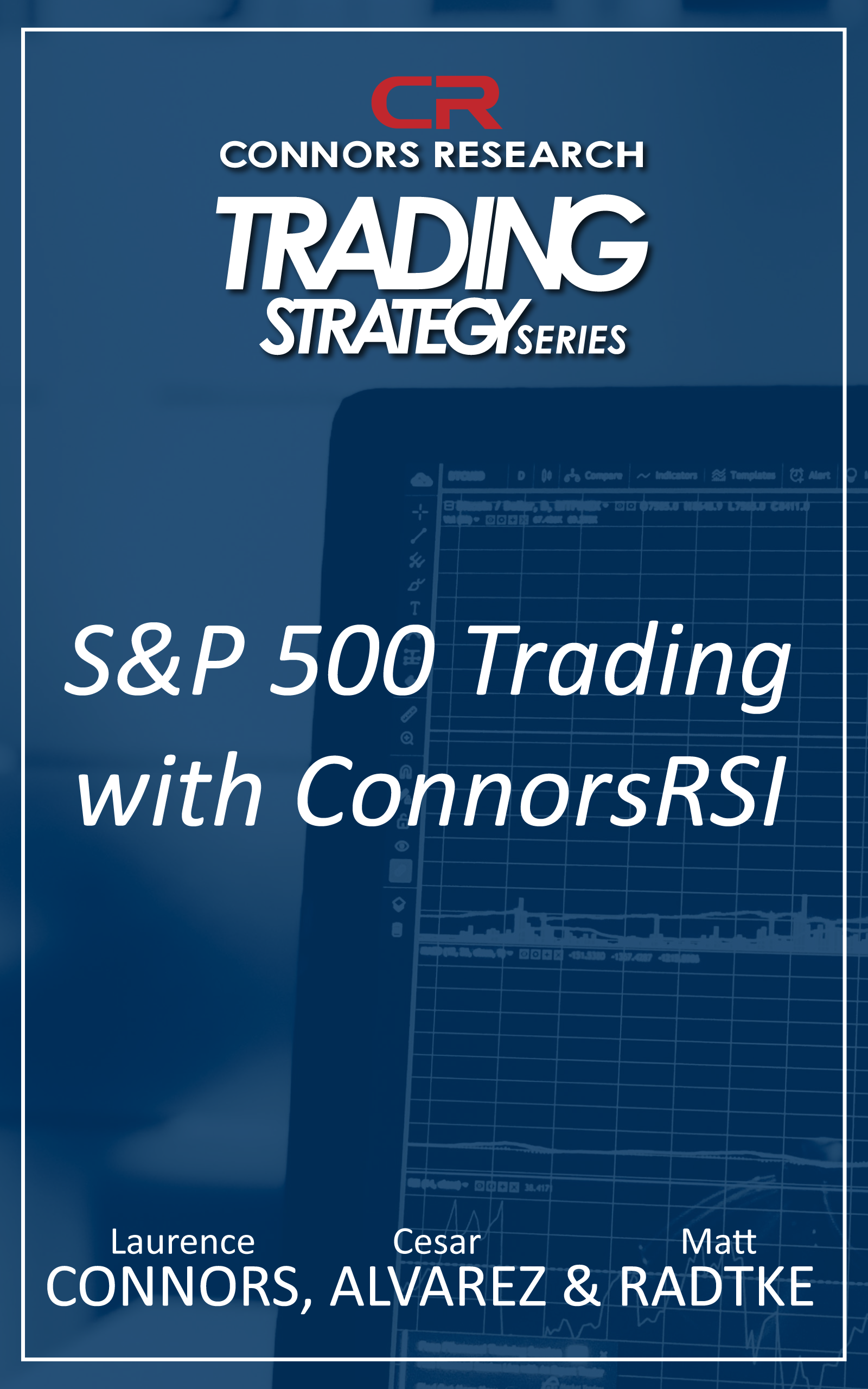 NEW!
Here's How You Can Swing-Trade for Short-term Gains AND
Stay In Your Comfort Zone -- with S&P 500 Stocks
Professional money managers have long bought quality stocks on pullbacks ...
Now you can follow the same strategy -- using quantified research & ConnorsRSI
Trade in Your Comfort-Zone
Active traders are often advised to stay in their "comfort zone".
Especially if they want to sleep at night.
In the U.S. Markets, that 'comfort zone' is most often found in S&P 500 Stocks. Here's why:
The majority of U.S. money is traded by institutions & the majority of this money is pension and retirement money.
The money managers of these funds often work under mandate to trade only "quality stocks"
The companies in the S&P 500, with long histories of success, are generally considered to be the highest quality stocks available.
Now -- Here's What's New:
In the past, institutions used a 'Buy-and-Hold' strategy for their S&P 500 allocations.
More recently, professionals have looked for short-term weakness on individual S&P 500 stocks -- in order to buy short-term lows and sell when the price on that stock rises back to it's true value.
Now you can use this same approach -- with a new level of quantified accuracy -- using ConnorsRSI as your guide to finding short-term oversold S&P stocks.
Introducing: S&P 500 Trading with ConnorsRSI
This latest GuideBook, from our popular Connors Research Trading Strategy Series, will teach you the how to
swing-trade S&P 500 stocks
to capture short-term gains from mis-priced opportunities identified by ConnorsRSI.
The only quantified momentum oscillator, ConnorsRSI combines price, momentum, duration of the trend, and relative magnitude of the price change -- all in a single indicator.
ConnorsRSI gives you a quantified way to identify stocks most likely to reverse. And as you will see from the test results, especially on a percentage correct basis, trading S&P 500 stocks with ConnorsRSI can be an effective way to achieve growth within the comfort zone of the S&P 500.
Test Results: S&P 500 Trading with ConnorsRSI
Jan. 2001 - Mar. 2013 (long only, ranked by % Winning Trades)
Variation
Avg. % Profit/Loss
Avg. Trading Days Held
% Winning Trades
1
14.8%
2.3
86.0%
2
16.9%
3.2
84.9%
3
13.3%
2.3
84.0%
4
15.0%
3.3
83.0%
5
11.2%
2.4
82.9%
6
12.7%
3.4
82.9%
7
12.9%
2.4
82.8%
8
12.8%
2.4
82.6%
9
14.6%
3.5
81.5%
10
14.5%
3.4
81.4%
With this GuideBook, you will receive over 40 variations with specific Entry/Exit Rules for defined by ConnorsRSI, including Limit Orders:
More than a dozen variations show winning trade rates
over 80%
18 variations show an Avg. % P/L (including all winning and losing trades) of over 10.0%
All are long positions; most are held for less than 5 days
If you rely on data, not opinion, to make your trading decisions, and you want the ability to choose the best variations to trade your strategies, then this guide is for you.
Here is a Sample S&P 500 Trade
Shown below is a chart for US Surgical (ISRG) from March 2013.
As you can see in the chart, a declining ConnorsRSI (lower blue line) signals a setup on March 14, 2013. On the very next day, the conditions are met for a buy at $460.50 (green arrow).
One trading day later, on March 18th, an exit signal triggers at the close, based on a rising ConnorsRSI.
Our exit occurs on March 19 at $481.24 (red arrow), locking in a pre-commission gain of 4.5% for hold of just over 1 day!
Note: Setups for Entries & Exits for this strategy occur at the market close each day -- giving you plenty of time to set up your trades at your convenience the night before.
The ConnorsRSI Difference!
What sets the
S&P 500 Trading Strategy with ConnorsRSI
Guidebook apart from other S&P 500 trading formulas is that we use
ConnorsRSI
to help identify BOTH the entry and exit points. ConnorsRSI is the first
Quantified Momentum Oscillator
-- and it has been adopted by thousands of traders since its release in November 2012.
We feel that it is specifically the use of ConnorsRSI that drives simulated test results with so many variations showing high levels of both Winning Trade Rates and Average P/L per Trade -- in the table above and in the GuideBook.
[The formula to calculate ConnorsRSI is included in this Strategy Guide. You can also get the ConnorsRSI value for any stock FREE at the TradingMarkets web site.]
Here's What You Will Receive...
In S&P 500 Trading with ConnorsRSI you will receive:
The exact trading rules. This is not a black box – full disclosure of the rules is given to you.
How to identify the best S&P 500 Stocks set-ups.
How to select the best entries that fit your trading style.
Where to exactly place your orders each day -- including research on the use of limit orders.
Where and when to exactly exit your orders.
S&P 500 Trading with ConnorsRSI test results include all S&P 500 stocks since 2001, including stocks like Enron and Lehman.
For Options Traders, Too
As a bonus we also added a section on how to trade options with this strategy. This increases the number of opportunities you have to profit from your S&P 500 Stock trading.
100% Money Back Guarantee
S&P 500 Trading with ConnorsRSI comes with a 100% Money Back Guarantee (as do all the GuideBooks in our Strategy Series). Use the strategy for 60 days. If you are not fully satisfied with the results, return the guidebook for a full refund.
Order S&P 500 Trading with ConnorsRSI Today
and Be Among the First to Trade This Strategy
You can be among the first traders to trade with this strategy by placing your order now.
S&P 500 Trading with ConnorsRSI will make you a better, more powerful trader. If you are looking to trade one of the most powerful strategies available to traders today, order S&P 500 Trading with ConnorsRSI.
To order your copy of S&P 500 Trading with ConnorsRSI, please order here or call toll-free 1-888-484-8220 ext. 3 (outside the US please call 973-494-7311). You will receive your download link for your copy immediately after ordering.
100% Research-Based
Connors Research
Trading Strategy Series
S&P 500 Trading Strategy w/ConnorsRSI
by Larry Connors, Cesar Alvarez & Matt Radtke
A practical guidebook with clear instructions how to apply ConnorsRSI filters that show historical tendencies to improve the winning edges for trading S&P 500 Stocks.
Price: $40.00
Your Total Satisfaction Guarantee
S&P 500 Trading Strategy w/ConnorsRSI is backed by our 100% money-back guarantee. If you are not completely satisfied with this strategy just let us know within 60 days and you will receive a full refund.
Order Your Copy
-- or --
Order by Phone: 888-484-8220, ext. 3
(Outside the U.S. Dial: 973-494-7311)
About Connors Research
For over 15 years, Larry Connors and now Connors Research has provided the highest- quality, data-driven research on trading for individual investors, hedge funds, proprietary trading firms, and bank trading desks around the world.
The strategies published by Connors Research are:
Completely Original & Unique to Connors Research
You will not find these strategies published anywhere else.
Consistent with Strategies Used by Billion-Dollar Hedge Funds
Institutional money managers make decisions based on sophisticated, computer-run analyses of massive amounts of trading data. So do we. So should you.
Historically Validated Over Many Years and All Types of Markets
We quantify precise patterns to improve your trading decisions. Our proprietary database spans over two decades, with more than 12 million quantified trades.
Tens of Thousands of Traders Have Relied on Our Research Over The Years
From best-selling books, like "Short Term Trading Strategies That Work", to our PowerRatings subscription service, to institutional software products, Connors Research continues to give professional traders and asset managers the tools to achieve professional-level results.
About the Authors
Larry Connors

Chairman & Founder, Connors Research. Larry Connors has over 30 years in the financial markets industry. His opinions have been featured at the Wall Street Journal, Bloomberg, Dow Jones, & many others.
Mr. Connors has been an active trader since 1981. His strategies and research are used by thousands of traders throughout the world.
Cesar Alvarez
Director of Research for Connors Research LLC. Previously, Mr. Alvarez was a senior developer of Microsoft Excel. For the past 12 years, Mr. Alvarez has been a professional market researcher.
Mr. Alvarez has been at the forefront of stock market research, having developed a number of trading systems now used by investors and fund managers in the United States and internationally.
Matt Radtke

Senior Researcher for Connors Research. Mr. Radtke graduated magna cum laude from Michigan State University with a degree in computer science. He has 25 years of software development experience, including work at Hewlett-Packard and Bell Northern Research.
Mr. Radtke has been actively trading stocks, ETFs, and options since 2008. Over the past several years he has become increasingly involved with the Connors Group family of companies, first as a student, then as a member of Chairman's Club, and finally as a consultant, researcher, and author.
Topics Covered
Introduction to S&P Value Buying
Introduction to ConnorsRSI
Test Results
Selecting Strategy Parameters
The Role of Exits
Using Options with This Strategy
Best on the Web

by Forbes.com.

Category: Investing, Technical Analysis.